Plastic Mountain Unveiling
I have just finished making Plastic Mountain, my second Rammed Earth public artwork, this time in south London. We will unveil it on the 6th of August.
About the project
Like my Layers of Bournemouth sculpture (2018), I have created a 2.5m high tall pyramid-like form made of layers of different coloured earth. But this time it is even more of local community effort. We invited passers-by to collect plastic litter and attach it to a metal framework inside the sculpture. We had lots of volunteers from 7-year-olds to Senior Citizens helping make the work. 
The project has been a great collaboration with Adeline Aletti which started in June 2020 when she was working on the Friends of the Earth Lambeth plastic campaign. We have since set up a not-for-profit company together, ran a successful crowdfunding campaign and received Arts Council England funding to create this project. We have been working in West Norwood since 2021, raising awareness of the plastic issue through art, science and campaigning.
Plastic Mountain Location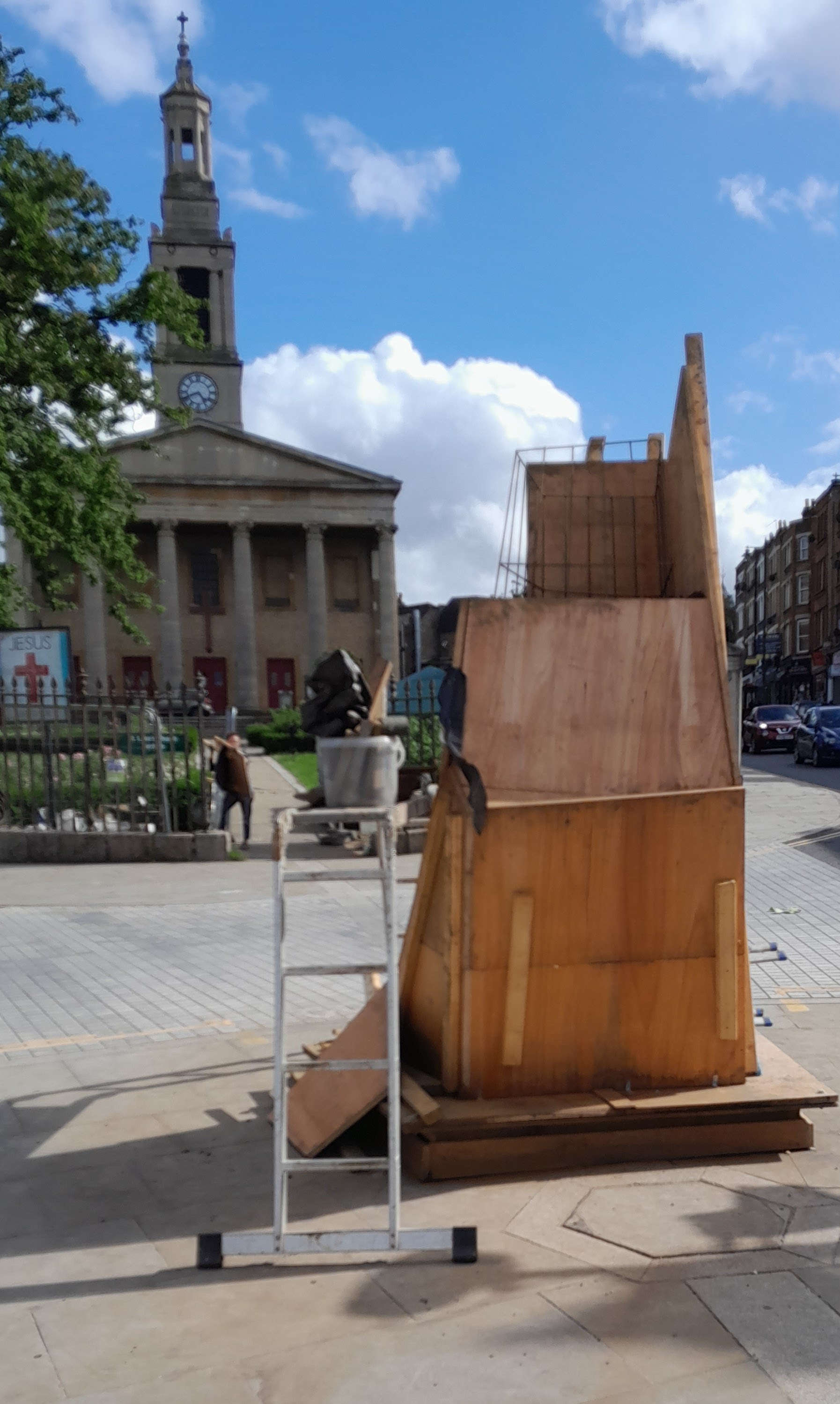 The Plastic Mountain sculpture is situated just outside the West Norwood Picture House and Library, on a traffic island with St Luke's Church as a stunning backdrop. It is a busy location and it has enabled us to have lots of conversations with all sorts of people. We have been on site through most of July ramming earth into a large wooden box. The earth has come from local gardens and building sites.
What will Plastic Mountain look like?
On the 6th August we will be dismantling the box for the first time, to see what the sculpture will look like. So part of me is very nervous about inviting anyone to the opening. It could all have gone wrong and it might not come out ok! But I'm trying to have faith and enjoy the jeopardy of the situation. Hopefully the risk will just make a successful unveiling all the more elating…
It will be a tall geometric shape made of layers of different earth-toned soil with little bits of litter embedded in the layers giving glints of bright artificial colours, contrasting the natural with the man-made. Then over the next few months, the earth will slowly erode away. Eventually all that will be left is the plastic litter attached to the metal framework. 
The Plastic issue
The sculpture is a visual metaphor, showing how nature has its cycles but the plastic isn't part of them and will remain. In fact, some plastic will take 1000 years to break down. As it breaks down it releases millions of microplastics. These microplastics accumulate in animals including human bodies and brains. We know that wildlife is already badly affected. Dead birds are found whose stomachs are full of plastic fragments and objects. But we don't know yet what diseases will affect our children who will grow up with microplastic fragments in their bodies and brains. 
We all need to keep trying to do our bit to reduce and reuse our plastic, try to avoid any single use plastics and support systemic change towards a circular economy of plastic. If you can make it to the opening on the 6th, please also go into the library where you will see a mural in 3 parts. This was painted by local children and teenagers as a result of our crowdfunder. The resulting colourful pannels highlights the problems of plastic, the four pillars of the circular economy of plastic and a West Norwood initiative to reduce takeaway plastic waste.
So I hope to see you on the 6th August at midday to see the dismantling of the wooden box and the unveiling of: The Plastic Mountain.
Plastic Mountain Unveiling
Sunday 6th August
12 noon
The traffic island outside West Norwood Picture House and Library
Nearest stations: West Norwood or Tulse Hill
Busses: 2, 196, 315, 322, 432, 690, N2
Our 
unveiling coincides with West Norwood Feast, which is volunteer powered street market festival that happens once a month. There are food stalls, artisan market, sustainable products and activities for children. For more info see here: https://westnorwoodfeast.com/
See you there!